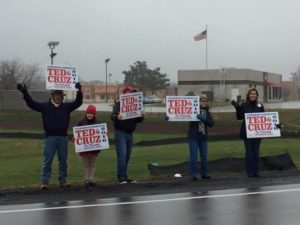 Tim Zorc, District 3 County Commissioner for Indian River County, traveled to the Iowa caucus to raise support for Ted Cruz in order to back the Texas senator's presidential bid against Donald Trump.
Tim and Laura Zorc, a politically active family living in the Vero Beach, Florida area, spent a snowy December holiday break bunking with scores of campaign volunteers and watching the Iowa caucus results.
Laura Zorc says, "I think we helped inspire and motivate other volunteers and also people who worked on the campaign." Laura, whose family — Tim, 55, and children Nicholas, 12, Abby, 10, and Chandler, 7 — drove through rain, hail and a tornado to arrive in Iowa December. 20 for a two-week stay at Camp Cruz for President.
When asked about the experience, Tim Zorc says, "We hadn't thought of the Christmas break. But as things got closer, it seemed like a great time to go up there and spend time out in the streets going door-to-door and phone-banking and sign-waving — all the traditional campaign things you get to do."
Read the full article here from TCPalm: Vero's Zorc family campaigns for Cruz in Iowa